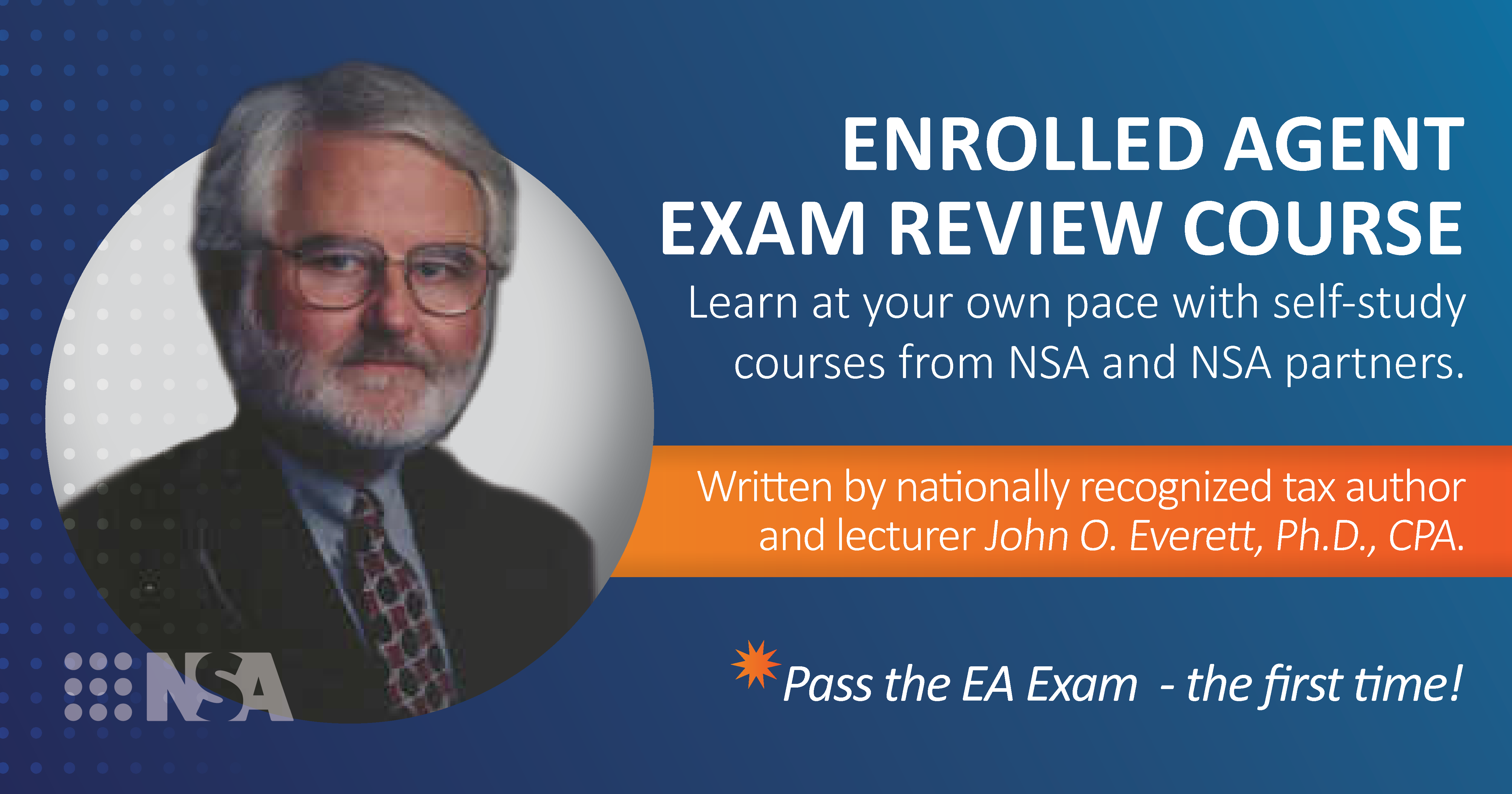 NSA's Enrolled Agent Exam Review Course
Learn at your own pace with self-study courses from NSA and NSA partners.
NSA's Enrolled Agent Exam Review Course–written by John O. Everett, Ph.D., CPA, a nationally recognized tax author and lecturer– is a three-volume reference intensive review geared toward a single purpose: to help you master tax basics and pass the EA exam.
These courses are sold in PDF, online, and spiral bound book format. You'll find NSA's EA Exam Review Courses emphasize case studies, examples, and diagrams that allow you to LEARN the law, and not just memorize facts. We challenge you to find a course that offers all of the following features at such an affordable price!
The 2022 NSA EA Exam Review Course is based upon 2021 calendar year tax law.

Purchase all 3 parts of the course or purchase 1, each course includes all the same tools to help you succeed!
Each Course Includes
Over 1,000 Pages of Detailed Study Notes - Clear explanations, numerous examples, and effective study tools and exam-taking tips that prepare you to pass the exam the first time.
Study Guides - Pace your study with 18 (6 per Part) - detailed, study lessons and review questions to help you master each section of the materials.
Top 150 Questions Per Part - Essential questions on topics that you will absolutely need to master.
Hundreds of Past Exam Questions - Review hundreds of questions from previous open exams, complete with answers and explanations.
Past Exam Question Frequency Tables - Each subtopic examined in the Review Course includes a frequency table for the last 10 years of open exams, giving you insights into the topics the IRS considered most important on the exam.
Final Review Card for Each Part of the Exam - This two-page super summary for each part of the exam is the perfect last-minute memory-jogger to use as a review immediately before the exam.
Plan of Study - Plan and manage your study time and schedule and avoid burnout using these guides with detailed assignments and time allocations.
E-mail the Author to Answer Your Questions - Stumped on a particular topic? Need help understanding something? With our course, you can simply email your questions to the author.
Pass the exam your first time!
Spiral Bound Books
Learn at your own pace with self-study courses from NSA and NSA partners. This package includes a spiral bound book, as well as access to the online and PDF Enrolled Agent Part 1: Individuals course for two years.

Register

Non-member - $300
Member - $250

Learn at your own pace with self-study courses from NSA and NSA partners. This package includes a spiral bound book, as well as access to the online and PDF Enrolled Agent Part 2: Businesses course for two years.

Register

Non-member - $300
Member - $250

Learn at your own pace with self-study courses from NSA and NSA partners. This package includes online and PDF access to all three parts of NSA's Enrolled Agent Exam Review course for two years, including: Part 1: Individuals, Part 2: Businesses, and Part 3: Representation, Practice, and Procedures.

Register

Non-member - $425
Member - $350
| Access Date | Quiz Result | Score | Actions |
| --- | --- | --- | --- |